Isolog is a newly formed specialty company providing mobile mudgas isotope services to wellsite/shore-based drilling and logging operations. We believe that our newly developed instrumentation represents an important & complementary add-on technology to global downhole LWD/wireline and mudlogging services and companies.
Deployed isotope analyses will be performed at/near well sites, and/or in global shore-based service centers. Isolog has been formed in response to widespread industry demand for rapid turnaround & on-location isotopic analysis of representative formation gases entrained in drilling muds.
After completion of a series of field-trials, mobile MGIL laboratory services will soon be made available to interested oil&gas and logging companies world-wide. We believe our instrumentation to be the most advanced generation of miniturized and robust MGIL analysis equipment available.
Our team of experts use this instrumentation to provide:
- Shorebased/Wellsite MGIL instrumentation and analyses
- Provides logistical support to ensure successful MGIL sampling
- Provides expert interpretive skills - Provide professional project report generation
- Provides propriety MGIL interpretive software for the well-site geologist/engineer or geoscientist.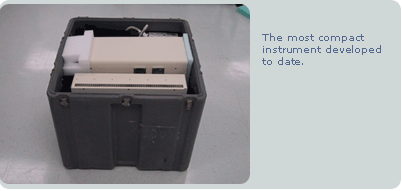 Completed Tests:
May 2003: Isolog achieved the first successful field test of the mobile isotope ratio mass spectrometer at the recent AAPG meeting in Salt Lake City, Utah. The instrument was packaged and shipped to location and setup within two hours of arrival (see above photo). Isolog's machine is the most compact intstrument developed in today's industry. It incorporates unique miniaturized and ruggedized components together with Isolog's proprietary technology. The system is fully computerized and can be operated remotely via the internet or telephone line.